More >
Jail Division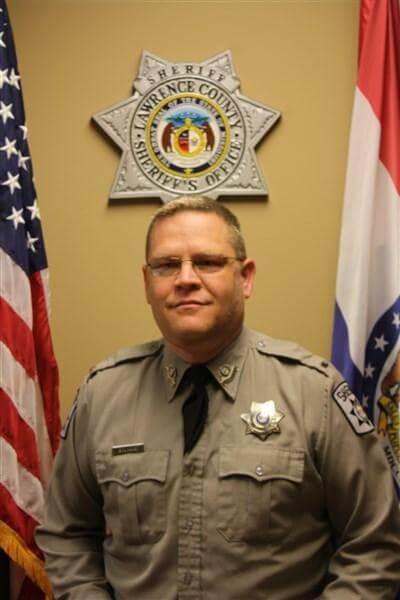 Lt. Doug Bounous
#250
The Lawrence County Jail is under the leadership and direction of Lt. Doug Bounous. In addition to Lt. Bounous the Jail Division is staffed by Sgt. David Carnagey, Deputy Cynthia Printz, Deputy Keith Williams, Deputy Brian Mincey, Deputy Jessica Dulany, Deputy Jedidiah Wimsatt and Deputy Cody Koless. The jail is also staffed by civilian jailers. Jailers, Rebecca Burton, Michelle Fobair, Laura Hostetter, Beau Wolfe, Richard Kennedy, Geoffrey Davis, Patrick Holtmann, Joshua Gerona, Hurley Sutton, Preston Page, Mariela Ortiz-Rodriguez and Glen Waltz.
The Jail Facility is a fifty two bed facility. It has been expanded over the years to its current capacity from a thirty two bed facility. The breakdown of these beds is thirty two general population, twelve female population, four protective custody, and four segregation.
All persons arrested in Lawrence County (with the exception of Aurora and Monett municipal charges) and taken into custody are transported to the Lawrence County Jail for book-in and incarceration. The Lawrence County Jail houses both adult male and female inmates for pre-trial and convicted inmates who are serving sentences or awaiting transport to the Missouri Department of Corrections.
The inmates have access to local television stations, and are also able to correspond through the inmate phone system and sending and receiving postcards through the USPS. The Lawrence County Jail is contracted with an on call doctor who also comes in to examine the inmates. During the normal business week we also have a nurse who oversees all medical requests and work with the doctor to deal with the medical requests. Meals for inmates are prepared by the on duty jailer. The basic jail menu for all inmates consists of oatmeal for breakfast, sandwich for lunch, and beans and cornbread for supper.
Each member of the Lawrence County Jail Staff is P.O.S.T. certified through the State of Missouri. They also receive a minimum of forty eight hours of continuing education every three years. The jail staff is responsible for receiving and intake process for all prisoners. This includes computer book-in, Live scan, Iris scan, DNA collection, photography, searching, monitoring all security video, observing inmate's activities, communicate with the inmates, incoming calls pertaining to the inmates and/or jail operations, and other assignments with in the jail facility.

Jailer Becky Burton
#280


Jailer Geoffrey Davis # 281


Jailer Michelle Fobair #282


Jailer Beau Wolfe
#284


Jailer Laura Hostetter #285


Sgt. David Carnagey #205

Deputy Cody Koless #201


Jailor Richard Kennedy #202


Jailor Hurley Sutton #203

#204

Deputy Cynthia Printz #206

Deputy Brian Mincey #207

Deputy Keith Williams #208


Jailor Patrick Holtmann #209


Jailor Joshua Gerona #210


Deputy Jedidiah Wimsatt#211


Deputy Jessica Dulany #212


Jailor Preston Page #213


Jailor Mariela Ortiz-Rodriguez #214

Jailor Glen Waltz #215
---
| | | |
| --- | --- | --- |
| New Pink Cells | Female Holding Area | Cell Block |
| | |
| --- | --- |
| Steel Mesh on Ceiling | Visiting Area |
Additional Information
Commissary Website