"Protect and Serve. These three words are the foundation of law enforcement. As Sheriff, I promise to you that this Office will commit to doing just that. We are here to serve you, the citizens of Lawrence County."
- Sheriff Brad DeLay
Poll Question
No Active Poll
Lawrence County, Missouri is located in southwest Missouri which is also referred to as the Ozarks. The county was organized February 14, 1845, although settlers first began moving into the territory as early as 1831. The county was named after Captain James Lawrence who was killed in the War of 1812. The county seat is Mt. Vernon. Lawrence County is approximately 625 square miles with a population of just under 40,000. It borders seven other counties in southwest Missouri and is located in-between two much larger counties with Jasper County to the west and Greene County to the east.
Lawrence County is primarily a rural county with many family owned and operated farms which produce a variety of livestock and crops. The county has seen an increase in population over the years because of the rural lifestyle. Many people are moving out of the big city and finding this area a great place to live while still having access to the big city amenities thanks to major highways such as Interstate 44 and U.S. highway 60 traveling through the county.
Lawrence County is also host to many seasonal festivals put on by many of the towns within the county drawing several thousand people each year to these fun activities. Attractions such as Branson, Springfield, Joplin, and area lakes are within a couple of hours driving distance making this an ideal place to live.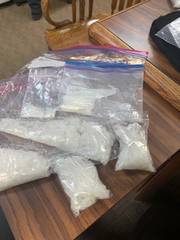 03/17/2020
Deputies Seize Over a Pound of Methamphetamine on
...more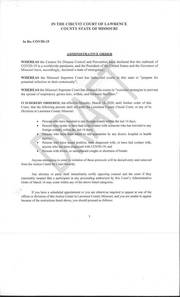 03/17/2020
Changes in Operations at the Lawrence County Judi
...more

03/16/2020
Sheriff's Association Releases Information Regard
...more