Sheriff's Office Looking to Hire for Deputy/Jailer Positions
02/07/2022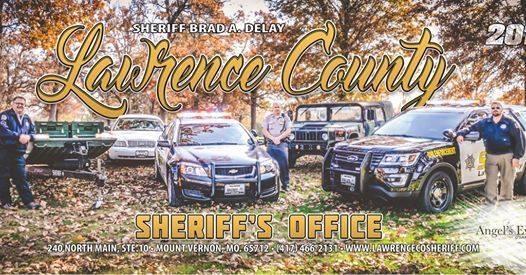 The Lawrence County Sheriff's Office has current openings for the position of Deputy Sheriff, in the jail division.
To be considered for this position, the applicant must:
Be POST certified or nearing completion of an approved basic training academy.
1. At least 21 years of age at time of graduation from academy.
2. Have a valid Missouri driver license.
3. Be able to understand and apply applicable laws in the performance of duties.
4. Have average or better computer skills.
5. Be able to pass a criminal background check.
6. Be available to work varied shifts/days.
7. Have the physical agility to perform standard duties in the jail.
8. Have a professional attitude and appearance.
Some of the duties for this position include, but are not limited to, computer entry of information in the booking and release processes, documentation of jail processes, effectively managing the detainee population, taking disciplinary action and completing reports for criminal charges against detainees who violate the law in the jail, managing detainee activities and movement in the jail.
This position, for POST certified personnel, has a starting wage of $18.45 per hour with the possibility of making $19.40 per hour in 6 months, a competitive benefits including health insurance (paid for the employee), retirement pension and savings plans, and offering of supplemental insurance.
The Lawrence County Sheriff's Office is currently in the process of building a brand new state of the art Sheriff's Office and Jail facility. We are looking for individuals who are motivated and want to serve the citizens of Lawrence County.
You may pick up an application from the Sheriff's Office, inside the Judicial Center, in Mt. Vernon during regular business hours or 24 hours a day at the jail.
If you have questions, you may contact Lieutenant Doug Bounous at 466-2131.
PLEASE SEE BELOW:
WE DO NOT ACCEPT FACEBOOK APPLICATIONS. YOU MUST APPLY IN PERSON. FACEBOOK APPLICATIONS WILL BE DELETED!