Deputies Serve Arrest Warrant Stumble on Drugs, Stolen Guns and Stolen Vehicles
09/18/2018
In the early morning hours of Tuesday September 18, 2018 Lawrence County Deputies with the assistance of a Mt. Vernon PD officer went to an apartment complex in Mt. Vernon to serve an arrest warrant on a subject that was alleged to be staying there.
Deputies were allowed into the apartment where they spotted the wanted subject along with a weapon. The suspect was taken into custody and it was determined that the weapon was stolen out of Springfield. The wanted subject was transported to the Lawrence County Jail.
Deputies then returned to the complex to conduct follow up investigations and consent was given by another subject to enter another residence. Deputies located what was believed to be methamphetamine, scales and other drug paraphernalia. That subject was then also taken into custody.
While processing that apartment, two vehicles arrived to the same location. One of the vehicles was determined to be stolen out of Springfield and deputies attempted to stop the vehicle. After a short chase, the vehicle was stopped north of Mt. Vernon. A male subject exited the vehicle and dropped a bag of suspected methamphetamine and a firearm.
The second vehicle that was at the apartment had been following the pursuit and pulled up alongside the deputy and stolen vehicle. Another male exited that vehicle with a firearm and is believed to have pointed and pulled the trigger at the deputy but no round was in the chamber. The suspect then got back into the truck and fled the scene.
Other deputies were also in the area and gave chase to the second vehicle that was later recovered in a pond. It was determined that this vehicle was also stolen out of Springfield.
Sight was lost of the male subject from the truck for several minutes until local farm hands located the suspect running through a field and gave chase on an UTV until deputies were able to respond and take that person into custody as well.
As a result of the above situation a search warrant was then served back at the original apartment complex by the Lawrence County Sheriff's Office, COMET Drug Task Force and Mt. Vernon Police Department. Prior to serving the search warrant two subject refused to exit the apartment but were later removed.
As a result of the search warrant, over two (2) pounds of methamphetamine an nearly $6,000.00 worth of cash were seized.
In all, seven (7) people were arrested, two stolen vehicles recovered, two stolen firearms recovered as well as a large amount of methamphetamine and cash were taken off the streets.
Formal charges are pending on all subjects arrested.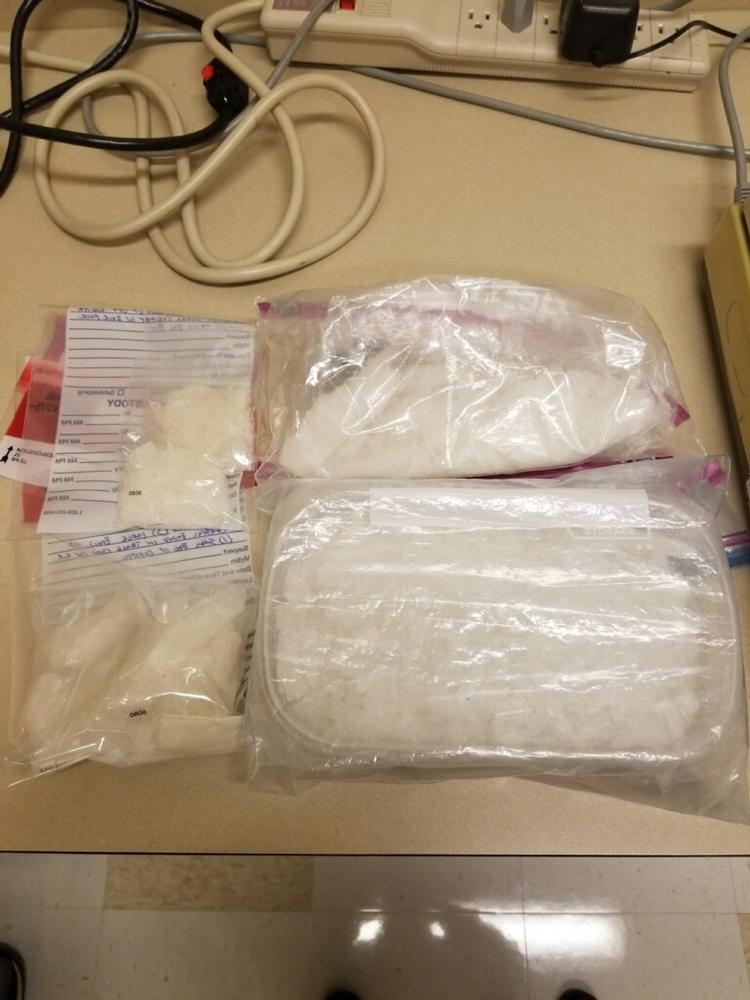 Methamphetamine seized from search warrant