Jail Administrator Recieves Top Award
05/09/2014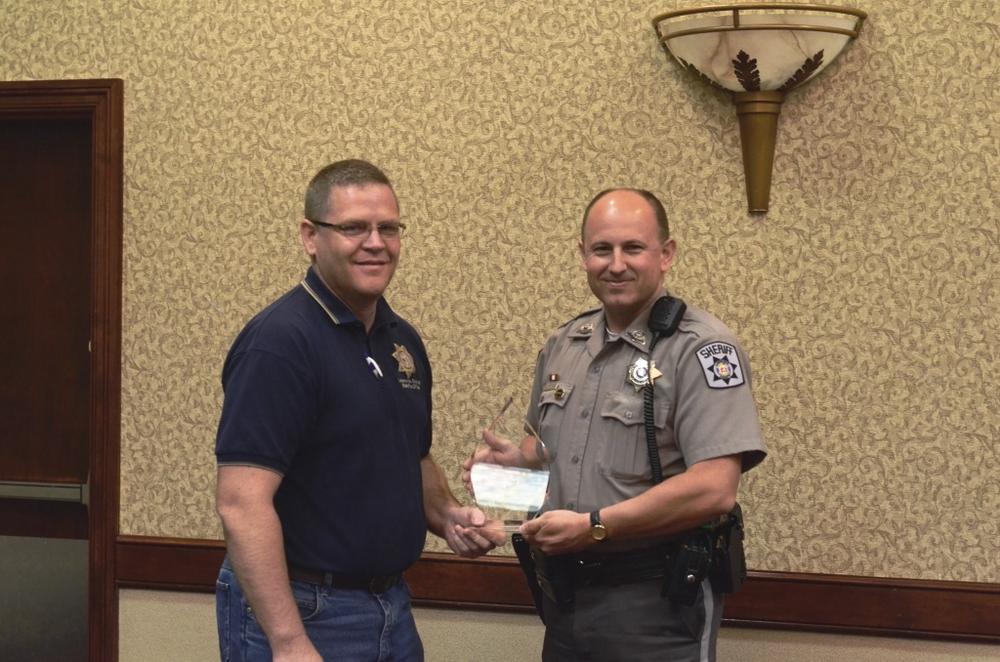 Lt. Doug Bounous receiving
Jail Administrator of the Year Award
(Photo by Kevin Merritt, MSA)
Lt. Doug Bounous has been selected as the Jail Administrator of the Year by the Missouri Sheriff's Association. This award is the first offered by the Missouri Sheriff's Association and was presented to Lt. Bounous at the 2014 Jail Administrators Conference in Jefferson City.
Lt. Bounous was recognized for his efforts serving as jail administrator for the Lawrence County Jail. Including finding and receiving over $15,000.00 in unpaid board bills from the state, collecting social security fees from inmates, as well as other sources of revenue that had not been coming into the jail.
Not only does Lt. Bounous serve as the jail administrator, he also serves as evidence officer and supervises the bailiff and transport division. While he continues to have many duties working for the Sheriff's Office, Jail Administrator is his biggest challenge. The amount of work, effort and dedication he puts into the job is immeasurable. his contribution to the Lawrence County Sheriff's Office goes unseen by many of the people that we serve. He does everything to the best of his ability to operate a safe, efficient, and organized facility.